Menudo Recipes

Menudo soup is a spicy traditional Mexican soup. The best authentic menudo recipes have been handed down for generations - from grandmother to mother to daughter.
The Sonora Menudo recipe is as authentic as you can get ... it originally came from an old lady in the mountains of Mexico.
If you're in a hurry (or don't have patience) you can use my Easy Menudo Recipe.
Menudo has been called "Breakfast of Champions", and there is no better cure for a hangover.

---
Menudo Recipes
Menudo Sonora - This is the deluxe Menudo recipe. It takes longer to prepare and has more ingredients, but the delicious, authentic taste can't be beat.

The Whole Enchilada, free monthly E-zine
---
The magic secret of this menudo recipe is that you cook each of the following separately, and combine and cook them together just before serving.
This keeps the flavors clean and separate, and the textures distinct. The tripe takes the longest to cook, so you should start with it.
Ingredients - Tripe

3
kg
tripe (6 lbs)
1
calf's foot (or 2 pig's feet)

1/2

head

garlic, peeled and crushed (not pressed)

4 or 5

small hot red chiles (to taste)

2

medium

onions, sliced

3

bay leaves

1

tsp

salt

1

tsp

black peppercorns, crushed

2

Tbsp

dry Mexican oregano

2

tsp

comino seed, crushed
Directions - Tripe

Wash the tripe thoroughly, trim off most of the fat, and cut it into one-inch squares. Drop tripe into a pot of boiling water, simmer for 2 - 3 minutes and drain. Place back into pot, and add one calf foot, or two pigs feet, cut up a bit.

Cover well with water, and add remaining ingredients.

Cook over very low heat

for several hours until very tender. Drain, reserving liquid. Wash tripe. Remove bones from feet, or can leave feet whole until served.

Return feet and tripe to liquid, cool and reserve. This will keep several days in the refrigerator and freezes fairly well.

Next step ... While the menudo is cooking, prepare the posole (white corn or hominy). You have three options:
Traditional - You were thinking ahead (about 2 days ago) and started with a dried, white corn. You soaked the corn in lime water, rubbed the skins off, and washed it thoroughly. This is exactly how they do it in Mexico.

This way requires lots of hard work ... but will give you the most authentic tasting menudo you can make.


Frozen posole corn - This is much easier and still gives you a good tasting menudo.


Canned hominy - This will work if you can't find either dried corn or frozen posole.

Ingredients - Posole

2

cups

dried white corn,
prepared by the Traditional method

or

2

lbs

frozen posole corn

or

1

gal

canned hominy

plus
1/2
head
garlic, slightly smashed
Directions - Posole
Wash
the corn thoroughly and drain. Place corn in a large pot and cover with water. Bring to simmer and add a half head of garlic, smashed slightly. Simmer gently until tender.
Drain all liquid from the posole. Quickly cool and refrigerate it if you are not going to finish the Menudo immediately.
Note:
Warm posole corn ferments quickly, and should be kept either very hot or very cold until cooked in with the menudo. It will keep 3-4 days in the refrigerator, but freezes poorly.
Ingredients - Red Chile Sauce

1/2
lb
dried red chile, whole

2

cloves

garlic, minced

pinch

cumin seed

1

Tbsp

vinegar

1

tsp

Mexican oregano

pinch

salt

1

tsp

sugar
Directions - Red Chile Sauce
First roast the
red chiles. Put the whole dried chiles on a hot dry griddle or frying pan and toss around a bit until they just barely begin to change color. Do this carefully, the chiles will scorch easily.
Remove chiles, place in a paper bag, and let cool. Remove stems and most of the seeds. Place in a pan, cover with boiling water and let steep 15-20 minutes. Run through a food mill or a food processor, discard skins.
Return chile mixture to pan and add garlic, cumin seed, vinegar, oregano, salt, and sugar to the chile pulp.
Simmer over low heat for a 3 -4 minutes. Cool and refrigerate. This classic Mexican Red Chile sauce is great with everything, not just menudo.
Note: If you have any serious Chile Heads (like me) in your house, you may want to make more chile sauce. The amount here should be enough for most folks.
You're almost done. Now all you have to do is put all the parts together.
Ingredients - Final Step

4

cups

Menudo tripe

4

cups

Menudo juice

3

cups

Posole Corn, drained

1 to 2

cups

Red Chile Sauce (to taste)

1 to 4
cups
water (for preferred amount of juice)

2

cloves

garlic, chopped finely

1

Tbsp

vinegar

1

Tbsp

Mexican oregano

1

tsp

cumin seed

black pepper, freshly ground (to taste)

dash of salt
Directions - Final Step
Place the menudo tripe, menudo juice, corn, and chile sauce in a dutch oven or heavy saucepan, and add water until you have desired amount of juice. This can vary depending on your personal preference. Some people like their Menudo thicker than others.
Bring to a simmer over low heat and add garlic, vinegar, oregano, cumin, salt, and pepper. Simmer for about 5 minutes until the Menudo is warmed through.
Ladle into bowls and serve with hot corn tortillas. Have some lime slices, chopped fresh cilantro, chopped onion, salt, hot chile peppers, and extra Red Chile Sauce available as condiments.
---
This recipe was originally published in my free monthly e-Zine, The Whole Enchilada. Subscribe now for lots more mouth-watering recipes and free access to the complete archives.
Ingredients

3

lbs

beef tripe

3

lbs

hominy, frozen

3

lbs

pigs feet, quartered

1

large

onion, diced

1

bunch

green onions, cut into 1/4-inch pieces, plus more chopped small for garnish

1

bunch

cilantro, chopped, plus more for garnish

2

Tbsp

fresh oregano leaves

1

Tbsp

black pepper, freshly ground

1

Tbsp

red pepper flakes

1

head

garlic

2

Tbsp

salt

2

pequin chiles, minced (for garnish)

Lemon wedges, (for garnish)

24

bolillos, toasted
Directions
Wash tripe thoroughly. Remove the excess fat from the tripe and cut it into bite-sized pieces. Rinse the hominy well in a colander under running water. Wash the pigs feet well also.
Combine all ingredients, except for garnishes, in a large pot with enough water to cover. Bring to a boil, and then reduce heat to low and simmer slowly until hominy opens and is cooked.
Do not overcook.
Skim the excess fat from the surface. It is best if you can refrigerate the Menudo in order to remove all of the grease.
Ladle into bowls, and garnish with additional fresh cilantro, chopped green onions, minced pequin chiles, and lemon wedges. Serve with toasted bolillos (a Mexican bread made with corn flour, see below).
---
Makes 3 dozen rolls
Ingredients

1

package

active dry yeast

2

tsp

granulated sugar

1-3/4

cups

warm water

1

tsp

salt

6

cups

all-purpose flour, sifted
Directions
Stir yeast and sugar together in a large bowl; stir in warm water. Add salt, then beat in flour, 1 cup at a time, beating well after each addition. Add flour a tiny bit at a time after the first 4 cups, just until the dough becomes too stiff to stir.
Turn out onto a lightly floured board and knead 8 to 10 minutes, or until smooth and satiny. Place in a lightly greased bowl, turning to grease the top of the dough, then cover with a sheet of wax paper and a towel. Let rise in a warm place free of drafts about 1 hour, or until doubled in bulk.
When dough has doubled, punch it down and allow to double again.
Cut dough into 36 equal pieces. Shape into football-like rolls, twisting each end. They should be rather flat with twisted ends. Lay rolls about 2 inches apart on a lightly floured baking sheet.
After shaping the rolls, slash the tops with a sharp knife or scissors. Cover with a towel and let rise until doubled in bulk.
When nearly doubled, preheat oven to 400 degrees F and lightly oil the tops of the rolls with a pastry brush. Bake for 20 to 30 minutes or until lightly browned.
---
Subscribe to Free Monthly E-zine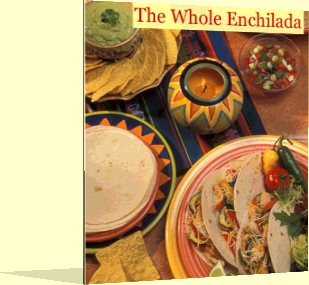 Want to learn more cooking techniques and Mexican & barbecue recipes - delivered monthly to your inbox?

My free E-zine, The Whole Enchilada, is more than just Mexican food recipes.

Learn time-saving tips & techniques for cooking all kinds of food, including barbecue and seafood. Lots of delicious recipes, too.

Free access to the complete archives.
Sign up below or get more info on:

The Whole Enchilada - The Mexican Food Lover's E-zine

---

---
Return to Mexican & Barbecue Recipes home page
---
Copyright © 2005 Strong Commitment LLC. All rights reserved.
---