The Whole Enchilada
The Mexican Food Lover's E-zine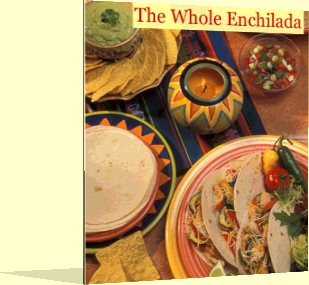 My free E-zine, The Whole Enchilada, is a great source of additional info for Mexican food lovers, grill meisters, smoked fish connoisseurs and anyone who loves cooking food of any kind.
Each issue is packed with new recipes and techniques to make your cooking and eating experience more enjoyable as well as articles on other topics of interest. I will also let you know when I add new recipes or features to the website.
Favorite Recipes published in The Whole Enchilada:
Visitor Requested Recipes
Black Forest Smoked Trout on Toast
Arroz con Leche
Marinated Shrimp in Avocado Halves
Coctel De Camaron Campechano (Shrimp Cocktail)
Jalapeno & Honey Recipes
Pescado Escabeche
Avocado Shrimp Cocktail
Chocolate Angel Food Cake
Low-fat Mexican Dessert Recipes
Quick and Easy Homemade Ice Cream
Subscribe now for lots more mouth-watering recipes and free access to the complete archives.

---
---

---
Copyright © 2004-2005 Strong Commitment LLC. All rights reserved.
---