Appetizer:
Quick and Easy Guacamole
Thick green guacamole. That creamy rich avocado dip is the perfect all-purpose mexican food.
It's great as an appetizer or as a main course.
Mashed avacado is great as a dip or condiment
Sliced or diced it makes a wonderful salad.
Did you know...interesting
guacamole facts.
---
Quick and Easy Guacamole Recipe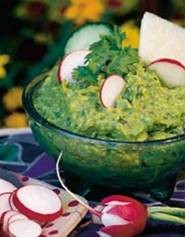 Ingredients:
2 avocados
1 small onion, finely chopped
1 clove garlic, minced (use garlic press for stronger flavor)
1 ripe tomato, chopped
1 lime, juiced
1/3 cup chopped fresh cilantro
salt and pepper to taste
1 radish

Directions:
Peel and mash avocados in a medium serving bowl. Stir in onion, garlic, tomato, lime juice, cilantro, salt and pepper.
Season with remaining lime juice and salt and pepper to taste. Cover with plastic wrap and chill for half an hour to blend flavors.
Garnish with a sprig of cilantro and sliced radish. Serve with tortilla chips.
---
The rest of the meal is here:
---
Mexican desserts that taste delicious and are healthy - you really can have both. These dessert recipes are low fat, but high taste! Only you know ... your family and friends can't taste the difference.
Which is healthier? Low fat diet or low carb diet? Get your fat facts ...
---
Return to Mexican & Barbecue Recipes home page
---