BBQ Sauce Recipes

What makes a person get in their car and drive for hours for something they could get around the corner?

BBQ Sauce!

For some folks, this is what makes a good barbecue. For others, it should only be used as a condiment.

We won't resolve that debate here, but I will give you plenty of BBQ sauce recipes. Enjoy.
---
BBQ Sauce Recipes
---
Ingredients

1 cup tomato ketchup
1/2 cup cider vinegar
1 tsp sugar
1 tsp chili powder
1/8 tsp salt

1 1/2 cups water
3 stalks celery, chopped
3 bay leaves
1 clove garlic
2 Tbsp onion, chopped

4 Tbsp butter
4 Tbsp Worcestershire sauce
1 tsp paprika
dash black pepper

Directions
Combine all the ingredients and bring to a boil. Simmer about 15 minutes. Remove from heat and strain.
The celery pieces make a tasty snack for the cook.
---
Ingredients

1/4 Tsp Allspice
1/4 Tsp Cinnamon
1/4 Tsp Mace
14 Tsp Black pepper
1/2 Tsp Curry powder, oriental

1/2 Tsp Chili powder
1/2 Tsp Paprika
1/4 Cup White vinegar
1/2 Tsp Hot pepper sauce
1 Cup Ketchup
1/3 Cup Dark molasses

Directions
Place all of the dry ingredients into a bowl. Add vinegar and stir. Add remaining ingredients and stir until mixture is thoroughly blended. This sauce may be served room temperature or heated.

---
Ingredients

3 Tbsp butter
1/4 Cup minced onion
1 Cup white vinegar
1 Cup tomato sauce
1/4 Cup Worcestershire sauce

2 Tsp sugar
1 Tsp salt
1/2 Tsp fresh ground black pepper
1/8 Tsp cayenne
Dash Tabasco sauce

Directions
In a saucepan, melt the butter over medium heat. Add the onions and saute for 6 to 8 minutes, or until the onions begin to turn golden. Stir in the remaining ingredients, reduce the heat to low, and cook until the mixture thickens, approximately 20 minutes. Stir frequently.
Use warm. The barbeque sauce will keep, refrigerated, for a couple of weeks.
---
Ingredients

4 Large onions -- chopped
3 Tbsp vegetable oil -- for sauteing
1 28 Oz Can tomato puree
3 28 Oz Cans tomatoes -- with juice
2 1/2 Cups white vinegar

4 Tbsp packed dark brown sugar
4 Tbsp granulated sugar
2 Tbsp salt
2 Tbsp freshly cracked black pepper
2 Tbsp paprika

2 Tbsp chili powder
4 Tbsp molasses
1 Cup orange juice
2 Tbsp Liquid BBQ Smoke
8 Tbsp brown mustard -- Dijon-style

Directions
In a large, heavy-bottomed saucepan, sauté the onion in the oil over medium-high heat until golden brown, about 7 to 10 minutes.
Add all the remaining ingredients, bring to a boil, then reduce the heat and simmer uncovered at the lowest possible heat for 4 hours. (This long cooking removes as much acidity as possible from the tomatoes.)
Puree sauce in 2, 3, or more batches to prevent it from spilling out of your food processor or blender.
Will keep 2 weeks, covered, in the refrigerator.
Ingredients

1 stick of butter
1 large onion, chopped
6 cloves garlic, minced
1 cup white wine vinegar
1 tsp cinnamon
2 whole cloves
1 Tbsp dry mustard
1 tsp chili powder
1/2 cup brown sugar
2/3 cup ketchup
1 cup water
salt and pepper

Directions
Melt butter in a saucepan; add the chopped onion, and minced garlic, until they just begin to brown. Add white wine vinegar, cinnamon, whole cloves, dry mustard, chili powder, brown sugar and ketchup.
Stir, then add water and blend. Bring to a boil, lower heat to simmer, add salt and pepper to taste, and simmer for about 20 to 30 minutes.
---
Ingredients

1 can (28 oz.) tomato puree
1/3 cup yellow mustard
3 cups water
1 1/2 cups cider vinegar
1/4 dark corn syrup
2 Tbsp lemon juice
2 Tbsp sugar
2 Tbsp packed brown sugar
2 Tbsp chili powder
1 Tbsp dry mustard
1 Tbsp paprika
2 tsp ground red pepper
2 tsp onion powder
1 tsp salt
1 tsp ground black pepper
1/2 tsp garlic powder

Directions
In large saucepan, whisk together the tomato puree and mustard until smooth. Stir in remaining ingredients. Bring to a boil. Reduce heat to low and simmer for 30 minutes, stirring occasionally. Serve warm.
Ingredients

3/4 cup yellow mustard
3/4 cup red wine vinegar
1/4 cup sugar
1 1/2 Tbsp butter
2 tsp salt
1/2 tsp Worcestershire sauce
1 1/4 tsp ground black pepper
1/2 tsp Tabasco sauce

Directions
In a medium saucepan, combine ingredients, stirring to blend. Over low heat, simmer 30 minutes. Let stand at room temperature 1 hour before using.
Ingredients

1 can (12 oz.) Classic Coke
1 1/2 cups ketchup
1 cup finely chopped onion
1/4 cup cider vinegar
1/4 cup Worcestershire sauce
1 tsp chili powder
1 tsp salt
hot pepper sauce to taste

In a medium saucepan, combine all ingredients. Bring to a boil. Reduce heat to medium-low and simmer, covered for 30-45 minutes or until sauce is thickened, stirring occasionally. Strain if desired. Season with hot pepper sauce.
---
Ingredients

1 onion, chopped
2 cups orange juice
4 cups ketchup
1/2 cup fresh lime juice
1/ cup cider vinegar
1/4 cup brown sugar
1 Tbsp salt
1 Tbsp black pepper
2 Tbsp dry mustard
2 Tbsp crushed red pepper
2 tsp garlic powder
1 tsp chili powder
2 Tbsp Tabasco
2 Tbsp tamarind paste
2 Tbsp honey
2 1/2 sticks butter

Directions
Add the onion and 1/2 cup of the juice to a blender and puree until smooth. Transfer to a medium-size saucepan. Add the remaining ingredients to the saucepan and bring to a boil. Simmer for 25 to 30 minutes. Set aside to cool. Barbecue sauce keeps two weeks in refrigerator.

---
Subscribe to Free Monthly E-zine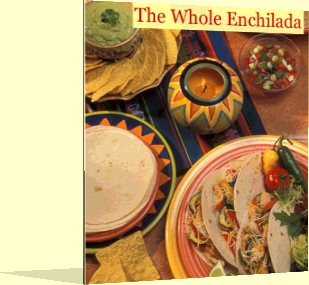 Want to learn more cooking techniques and Mexican & BBQ recipes - delivered monthly to your inbox?

My free E-zine, The Whole Enchilada, is more than just Mexican food recipes.

Learn time-saving tips & techniques for cooking all kinds of food, including barbecue and seafood. Lots of delicious recipes, too.
Sign up below or get more info on:

The Whole Enchilada - The Mexican Food Lover's E-zine

---

---
Return to Mexican & Barbecue Recipes home page
---
Copyright © 2005 Strong Commitment LLC. All rights reserved.
---